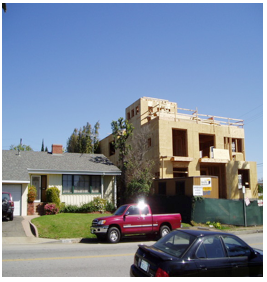 DEBUNKING LA'S GREEN MCMANSION MYTHS -
In a previous CityWatch column debunking the myth of LA's "green" McMansions I explained that the widespread mansionization of many Los Angeles neighborhoods is a deliberate rather than accidental failure of the planning process.

I further explained how this scam has been perpetrated by officials who portrayed McMansions as "sustainable" development, even though mansionization is one of the least ecological schemes ever spawned by the real estate industry.
It is even more disturbing to learn that this deception is not an anomaly. It has been reinforced by previous and subsequent ruses intended to quietly promote mansionization throughout Los Angeles. This is why these overstuffed houses are popping up at an accelerating rate throughout much of the city.

Yes, it is true that the city's legally adopted city plans, such as the General Plan Framework Element and the Community Plans, clearly protect the character and scale of Los Angeles's residential neighborhoods. In terms of their blue-sky policy language, mansionization is clearly out-of-bounds. This is even clearer in Do Real Planning, a planning policy document prepared by the previous Director of Planning, Gail Goldberg.

NEUTRALIZE MANSIONIZATION: Neighborhoods zoned single family deserve protection. The most pervasive threat they face is the replacement of existing homes with residences whose bulk and mass is significantly lager than the street's current character – sacrificing greenery, breathing room, light, and air. Let's be the champions of a city-wide solution to prevent out-scale residences.

These are beautiful sentiments, but City Hall's actions speak far louder than these and other noble words.

The first deception was directed at one of LA's mansionization epicenters, Beverly Grove. This Fairfax neighborhood area contains 700 mostly Spanish Revival homes constructed in the late 1920s. Near medical services, parks, shopping centers, grocery stores, restaurants, and museums, Beverly Grove has an ideal location.

Furthermore, it is surrounded by a gated community (Park LaBrea), Historical Preservation Overlay Zones, as well as Beverly Hills and West Hollywood, two cities that have successfully limited McMansions.

Since the contractors and private investors responsible for mansionizing Los Angeles were blocked from those desirable areas, they descended on unprotected Beverly Grove to pick the carcass clean. The mansionizers have built over 50 McMansions there is the past decade, over half in the past two years.

In response to the sudden appearance of McMansions, Beverly Grove residents beseeched their local Councilperson at the time, Jack Weiss, to take action. After many delays, Weiss finally moved when his own neighborhood survey revealed that 60 percent of Beverly Grove residents wanted to stop McMansions. Then, when he balked and protested that 60 percent was no longer solid enough evidence for him, a neighborhood petition campaign raised the threshold to about 75 percent.

Unable to retreat further, Weiss reluctantly granted the community an Interim Control Ordinance (ICO) to stop McMansions. It had wonderful Whereas clauses, but Weiss's trickery was buried in the details. His ICO allowed new homes to be built as large as 6,600 square feet, or 2,000 feet larger than the McMansions he pretended to stop in response to community complaints.

Furthermore, Weiss got the last laugh because his fraudulent ICO set the precedent for the equally fraudulent citywide Baseline Mansionization Ordinance that replaced it.

But Weiss did not stop there. As a Councilmember, he also proposed that the Baseline Mansionization Ordinance grant a bonus to new houses that became LEED certified. This, then, is the origin of the debunked urban myth that LA's McMansions are sustainable development.

Weiss's suggestion soon appeared in City Planning's draft mansionization legislation. It then sailed through the City Planning Commission and the City Council. The Mayor, always a booster of "greening" Los Angeles, quickly signed off on it over the objection of the Director of Planning.

Because the public objected to this fraud at official hearings, the final mansionization legislation created a Residential Floor Area Overlay Zone (RFA). In theory, this provision gives local communities relief from mansionization. In other words, to actually end mansionization, a local community must devise an elaborate escape route from the Baseline Mansionization Ordinance.

The first step is a request to their local Councilperson to submit an RFA motion to the City Council. If the motion is submitted and adopted, the Department of City Planning then has the authority to reject it. This is exactly what has already happened to several communities.

For example, in Valley Village the community undertook a detailed survey that resulted in a Council RFA motion to stop mansionization. But, because the Department of City Planning chose to ignore it, the Valley Village RFA died on the vine. After two years the City Council declared its own RFA motion void because of City Planning's inaction.

But, why would City Planning rebuff Council RFA motions? One reason is that when the City Council created the RFA option, it did not fund any City Planning staff. Since the Department of City Planning, however, has over 200 staff members paid for from the City's General Fund, the real explanation runs deeper. Once the RFA option was created, the City Planning Department then established 10 pages of intricate administrative steps to prepare an RFA ordinance.

In other words, the "we don't have resources for such a large undertaking" is really a self-inflicted wound that blocks these overlay ordinances. The intricate and arbitrary steps required to stop McMansions, ensure that few, if any, such RFA ordinances will ever be prepared or adopted. The result is, as probably intended, quietly maintains the mansionization process while officials can publicly object to them.

This is why these mysterious investors and their contractors are still feverishly bulldozing large swaths through beautiful older LA neighborhoods.

Furthermore, as I previously wrote, there are many simple fixes to this web of deceit that could turn the tables on the mansionizers and their many stealth friends at City Hall. For example, the Mount Washington neighborhood of Los Angeles has an ordinance that requires all new homes to go through environmental review.

This administrative procedure could be adopted throughout Los Angeles. It would be based on the principle that McMansions have clear environmental impacts, and when communities, like Beverly Grove, are extensively mansionized, these impacts become cumulative.

Each new McMansion adds to the community's energy needs, as well as producing emissions, noise, dust, asbestos, loss of parking, loss of trees and parkways, loss of solar access, and loss of rain water percolation. In combination, these environmental impacts are significant, with the downsizing of these monster homes the only real environmental solution.

But, as was made clear in the previous article, the problem is not a lack of technical solutions. It is City Hall's continued, but unstated commitment to mansionization.
(Dick Platkin is a city planning consultant who teaches sustainable city planning at USC's Price School of Social Policy. He is a CityWatch contributor and can be reached atrhplatkin@yahoo.com or on his blog: http://www.plan-itlosangeles.blogspot.com/)
CityWatch,

Vol 10 Issue 81

,

Pub: Oct 9, 2012